Team Taleem, Quality Education for all
Providing families with education solutions using imagination, engagement, and inspiration with Team Taleem – Early Learning Program
Team Taleem tablet comes packed with a safety cover, headphones, stylus, and more!
Digital workbook for English, Maths, Urdu
Fun, interactive and user friendly
Works offline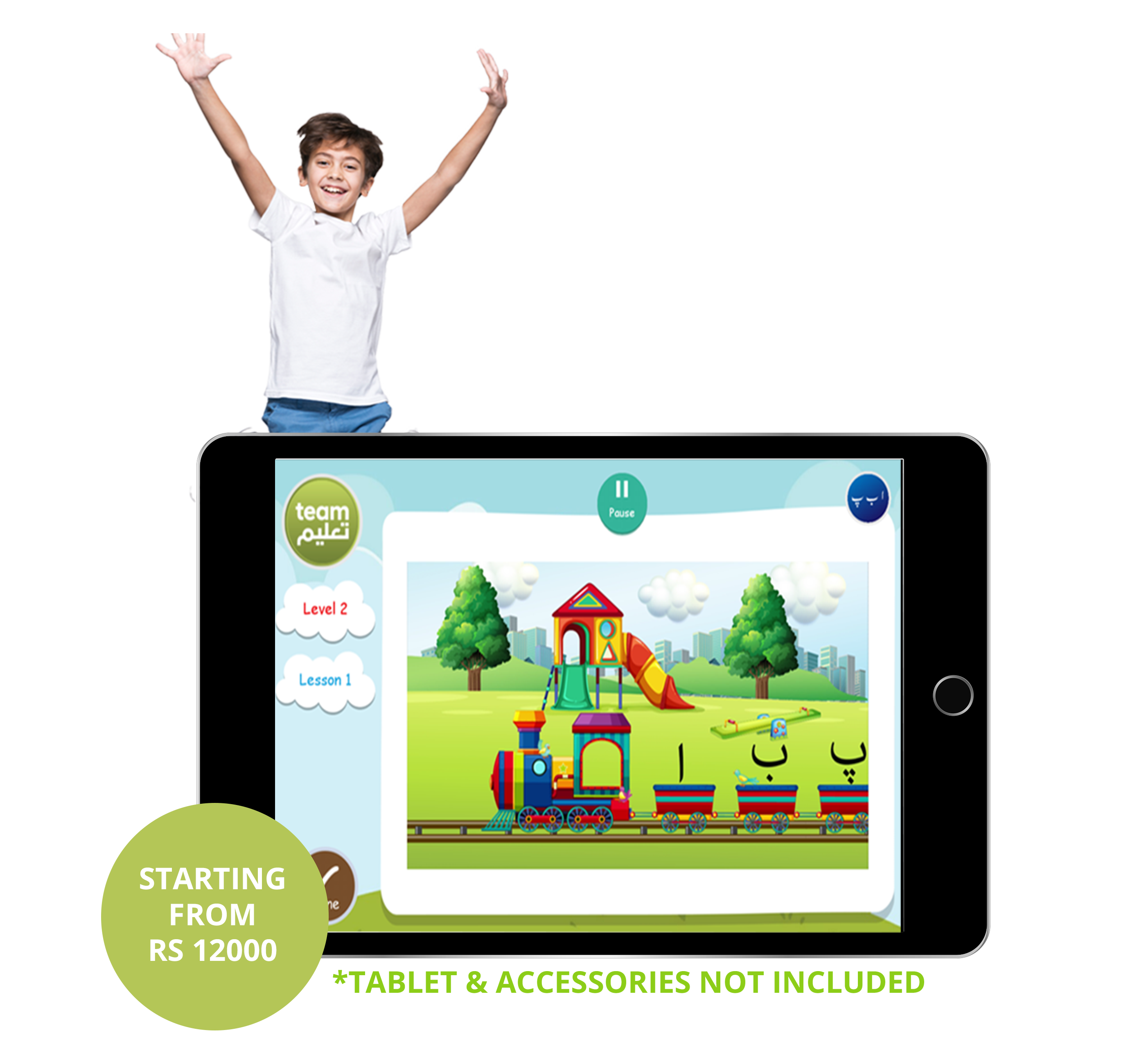 Our product is packed with education and innovation, to help families take their first steps together.
Accelerated and personalized learning with digital content
We are passionate and driven to create pattern-breaking social change, using unconventional methods to provide educational opportunities for all at their own pace and locations.
Technology-Enabled Quality Education Program
Accelerated Program
Accelerated program for KG to class 2 on a digital platform
Courses
Covers Urdu, English, Maths, on a digital workbook
Learner Specific
Individual login for each learner
Hardware
Each learner to have a tablet, cover, stylus and headphone
Subscriptions
Subscription for 6 months, 3 hours per day, 5 days a week at any viable location
Supervision
Learning session to be supported by supervisor but not dependent on their quality of teaching
Device Capability
Android with 3G/4G support
User Friendly
Easy to navigate, user friendly / intuitive user experience
Centralized Learning Management
Customizable Study Plans
Study plans are customizable and broken into daily, weekly and monthly study plans
Monitoring
Monitored through learning management system
Digital Platform
Digital workbooks with practice exercises
Age Limit
Minimum age requirement for fun-filled learning program is 3 years
Online Assessments
Assessments are done online and results are recorded for teachers and parents to monitor
Learning History
History of learning and assessments are recorded
Supervised Learning
Hardware to be used under guardian supervision and will be used by multiple learners